The Ginza area delights the eye with sophisticated architecture befitting the home of traditional culture and classic fashion.
(1)Louis Vuitton Ginza Matsuya Ginza

Designed by Jun Aoki, responsible also for other Louis Vuitton stores in and outside Japan, the establishment's façade is modeled on the iconic LV pattern. The motifs embedded in the specially treated material of the exterior wall emerge as patterns due to shading and lighting effects.


( External link )
【Walk 5minutes】
(2)Maison Hermès Ginza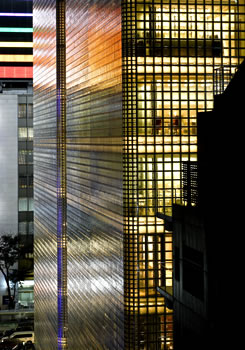 【Walk 5minutes】
(3)Mikimoto Ginza 2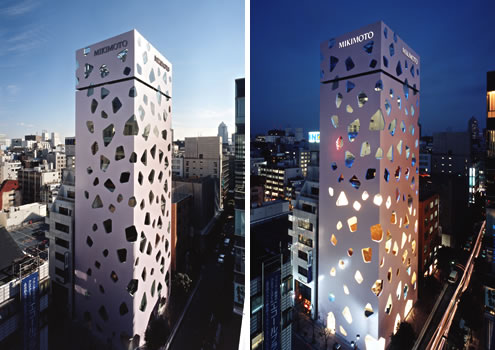 Designed by Toyo Ito, responsible for the Tod's Omotesando Building, the store features a pearl pink façade irregularly perforated with glass windows of different sizes and shapes for an effect reminiscent of Mikimoto pearls.


( External link )
【Walk 15minutes】
(4)Ginza Kabukiza (Kabukiza Theater / Kabukiza Tower)
Rebuilt in 2013 by Kengo Kuma, the theater features a 16th-century Japanese-style exterior, and interior design that takes advantage of fine building materials. Even visitors who choose not to watch a kabuki performance can enjoy the gallery and shops. The 29-floor Kabukiza Tower behind the theater is the tallest structure in the Ginza district.

Model course Tokyo Architecture(Ginza area) is displayed on a larger map