New urban space for business, commerce and living with harmony between the water and towns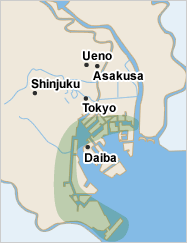 With changes in the role of canals, this area is promoting the shift in land use toward a waterfront area with housing and commercial facilities.
In the Edo period, the current Hamarikyu Gardens with Shioiri Pond were created on this beachfront location. In addition, Shinagawa, the first post town of the Tokaido, prospered with hundreds of inns and restaurants. Most of the surrounding areas had a well-developed network of canals, which were built from the Meiji to Showa period through land reclamation. They functioned as a space for distribution and the industry with the facilities such as wharfs, warehouses and factories. With the redevelopment of remains of relocated factories along the canals in recent years, a new city with offices, commercial facilities and housing is being created here. In addition, former warehouses are now used as a space for restaurants and art activity.
Why not enjoy the events taking place in this attractively developing area benefiting from deregulations to promote the "Canal Renaissance"?
Here are some featured events and tourist spots in the canal area.
List of events staged in this waterfront area