Excursion into the streets to experience the Edo downtown culture and the Sumidagawa River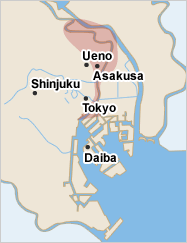 This location is rich in historical sightseeing attractions that inherit the history and culture of the Edo period. A large number of tourists from both at home and abroad visit cultural facilities and streets in Asakusa, Ryogoku and other locations in the area, to experience the downtown Edo culture. Furthermore, various sightseeing spots are linked together both through waterways and roads with the Sumidagawa River at the core.
The Sumidagawa River in the Edo period was a lively recreation site for many local people and also functioned as an important traffic route for people and transportation. Improved water quality due to the spread of sewage system fueled the movement to restore the prosperity in the past for example through holding events and constructing a water-bus terminal and Shinsui (waterfront) Terrace. Information on the events that take place at the Sumidagawa River area is offered here.
Here are some featured events and tourist spots in the Sumida-gawa River area.
List of events staged in this waterfront area