Urban space ideally suited for gateway to Tokyo with harmony between the water and the greenery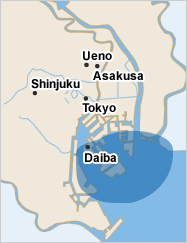 With the development of new offices and commercial facilities, an urban space with water and greenery is being created in this location. While the amusement and convention facilities enliven the area, a beautiful landscape provided by the harmony between the water and the greenery welcomes visitors by air and sea.
This area is a new urban space created by reclaiming the seaside area. The location is equipped with the harbor facilities to support distribution in the Tokyo metropolitan region in addition to the offices, commercial facilities and the spaces to promote exchange. In the Tokyo Waterfront Subcenter, the facilities with a greater drawing power to promote exchanges and the cutting-edge science and technology facilities are established such as in Odaiba enlivened with many young people, and the Tokyo Big Sight, where international trade fairs are held every day. New and diversified infrastructures for example for commerce, business, housing and disaster prevention, are also being built in this area.
Why don't you participate in the events held in this location while being exposed to the sea breeze?
Here are some featured events and tourist spots in the seaside area.
List of events staged in this waterfront area