Water recreation area to enjoy water experience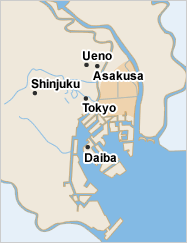 With the rivers crisscrossed, this area has a great potential for a place where people can enjoy water experience. The area is dotted with various cultural facilities, including the Museum of Contemporary Art Tokyo, and they are connected each other via the waterfront and green walkways where local culture can be experienced. In addition, the flowers of each of the four seasons create a space where people can feel familiar to the water.
In the Edo period, Fukagawa was lined with Ryori-jaya restaurants and prospered as an entertainment place for local people. The progress in the flood control measures has been gradually making it easier to experience the water in the area managed with water gates and locks. With the opening of the Arakawa Lock Gate, the Sumidagawa River and the Arakawa River have been connected again through this area, further enhancing the area's appeal.
Please visit and participate in the events taking place in this area while enjoying spacious waterfront view.
Here are some featured events and tourist spots in the Koto Inner River area.
List of events staged in this waterfront area