Commercial district with international appeal and waterfront landscapes with a sense of spaciousness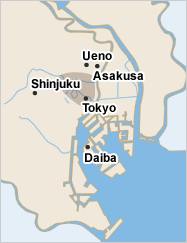 Since the Edo and Meiji period up to the present day, this area has had many offices and commercial facilities that represent Japan along natural landscapes. In addition to office function, unique commercial facilities specializing in electrical goods, sports, books and anime (Japanese animation), etc. make this location one of the world's most attractive sightseeing spots.
Nihombashi, which used to be an artery of water traffic to support distribution and the starting point of the Five Highways, was full of life with its fish market and other facilities. Even today, many historical buildings remain here. In addition, local communities in this area are making various efforts, including a proposal for community development, by leveraging history, tradition and culture handed down from the Edo period.
On the other hand, business centers that represent Japan such as Otemachi have been created in this location, and a world-famous electric town, Akihabara is crowded with many young people.
Here are some featured events and tourist spots in the Lower Kanda-gawa River and Nihombashi-gawa River area.
List of events staged in this waterfront area