Being one of the world's fashion capitals, Tokyo is naturally home to fashion complexes that are works of art in their own right. Here, let's look at a selection of them, along with their architects: the flagship stores of international fashion houses Prada, Christian Dior, Louis Vuitton and Hermès,; that of global Japanese jewelry brand Mikimoto; plus the Ao, Gyre, and the Tokyo International Forum.
Aoyama / Omotesando
Dior Omotesando
Designed by Kazuyo Sejima and Ryue Nishizawa of the Japanese architectural firm SANAA, the building clad in skirt-like drapes aptly reflects the world of Dior—classical and modern, elegant and feminine, all at the same time.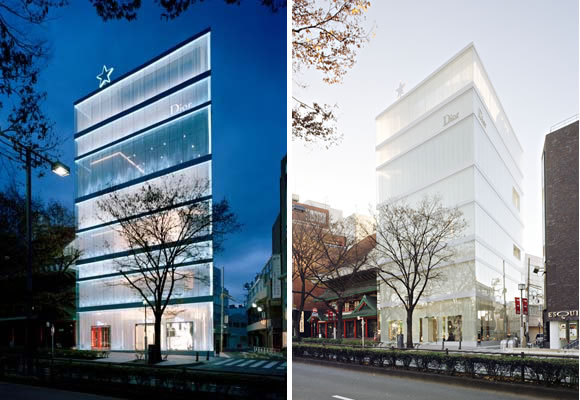 Photo courtesy of Christian Dior
Prada Aoyama
Designed by Swiss architecture firm Herzog & de Meuron, the building catches the eye with its diamond-shaped glass panes, which reflect the sky and shine like crystals by day, and reveal the light from within like a showcase by night.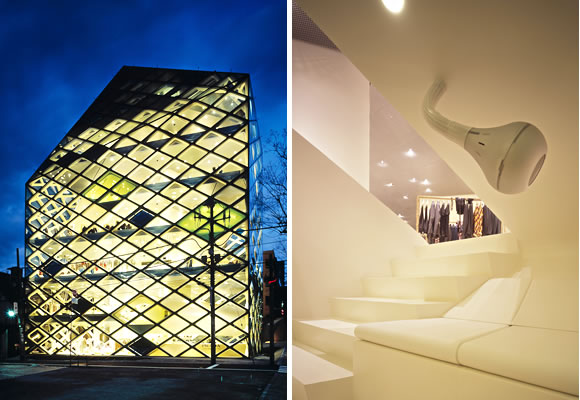 ©PRADA
Ao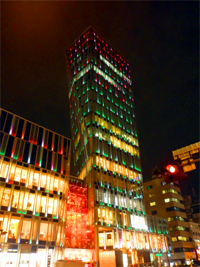 Designed by Naoki Iijima, responsible for Shiseido's flagship stores, the wedge-shaped mall towering along Route 246 has a façade that seems to change its shape depending on the angle of the viewer, and at night appears to sway owing to the LED lamps built into the periphery.
Gyre
Designed by Netherlands-based architecture and urbanism practice MVRDV, the structure whose name means "twist" or "spiral" does just that—each floor twists in relation to the floor beneath, forming a unique spiraling promenade.
Ginza / Yurakucho
Louis Vuitton Ginza Matsuya Ginza
Designed by Jun Aoki, responsible also for other Louis Vuitton stores in and outside Japan, the establishment's façade is modeled on the iconic LV pattern. The motifs embedded in the specially treated material of the exterior wall emerge as patterns due to shading and lighting effects.

©LOUIS VUITTON
Maison Hermès Ginza
| | |
| --- | --- |
| ©Michel Denancé | Designed by master Italian architect Renzo Piano, the edifice is constructed of square blocks of glass that allow sunlight to enter during the day, and project the interior light outward at night like a colossal Japanese paper screen. |
Mikimoto Ginza 2
Designed by Toyo Ito, responsible for the Tod's Omotesando Building, the store features a pearl pink façade irregularly perforated with glass windows of different sizes and shapes for an effect reminiscent of Mikimoto pearls.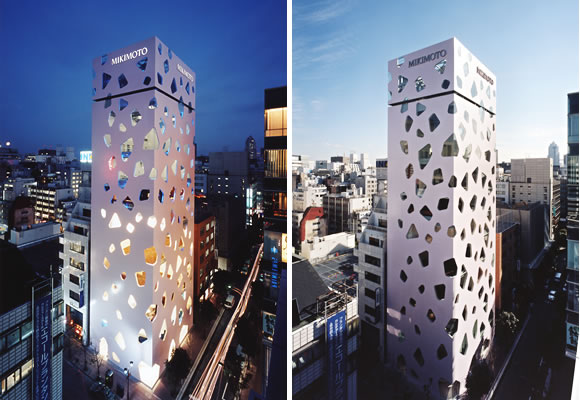 Photo courtesy of MIKIMOTO Ginza 2
Tokyo International Forum
Designed by US-based architect Rafael Viñoly, the atrium-style ship-shaped glass structure that symbolizes the cultural complex measures 207 meters long, 57 meters high, and 32 meters wide. The body of artworks displayed in the ground-level plaza and the terrace is a must-see.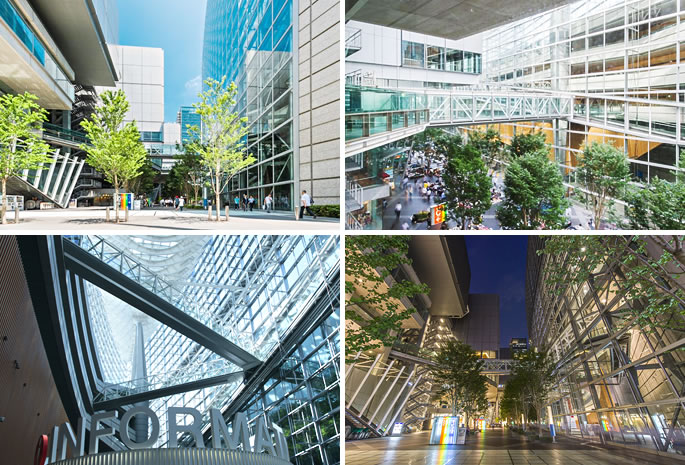 Photo courtesy of Tokyo International Forum