Tokyo is home to important works of architecture in diverse arenas—the Bank of Japan forming the basis of the country's financial system, the National Diet Building serving as a witness to the history of its politics, and Tokyo Station at the center of the capital's transportation network. Some facilities are open to the public, and others offer guided tours (reservations may be required), for a great experience and the chance to gain insight into the building's history and heritage.
Kyu Iwasaki-tei Gardens
The mansion built in 1896 is the former residence of Hisaya Iwasaki, the third president of Mitsubishi and the eldest son of the company's founder, Yataro Iwasaki. A rare remnant of early modern Japanese residential design, the building features an upstairs guest room decorated with Japanese leather wallpaper. The architect, Josiah Condor, was also responsible for the Rokumeikan Hall and the Nicolai Cathedral.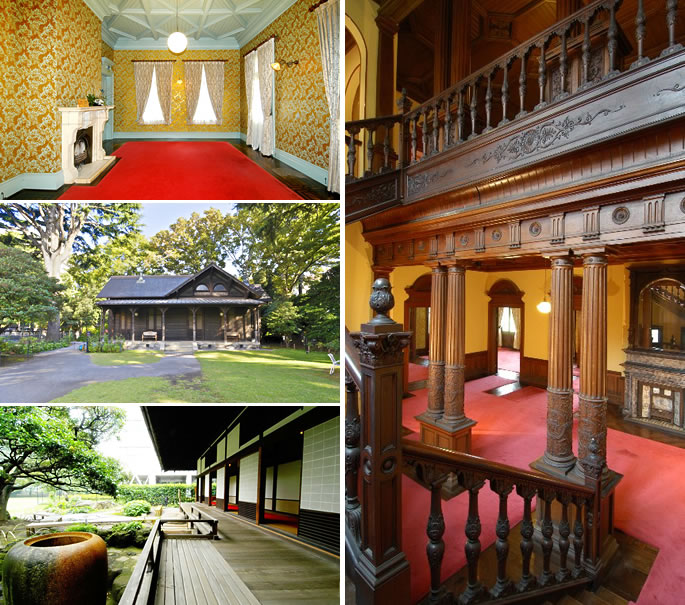 Katsushika-ku Yamamoto-tei
The building constructed between the late Taisho (1912–26) and early Showa periods (1926–89) was the home of Einosuke Yamamoto, who founded the Yamamoto Plant for manufacturing camera components. It is an excellent example of a hybrid Western-Japanese style building blending in harmony with a pure Japanese-style garden.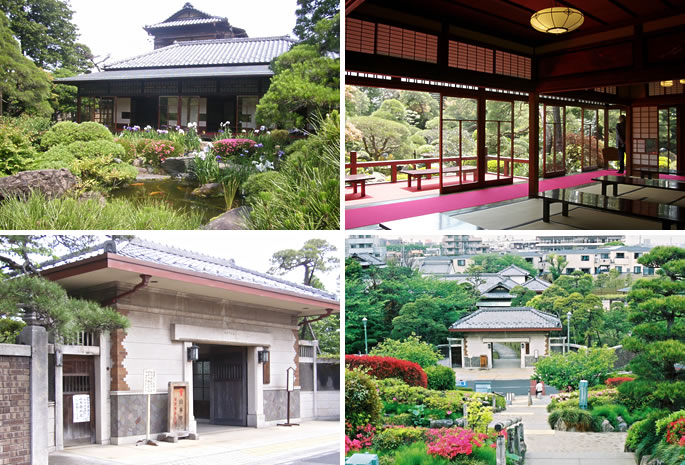 Bank of Japan Main Building
Completed in 1896, the stone-and-brick building extending three floors above and one floor below ground level was designed by Japanese architect Kingo Tatsuno. It was modeled after the National Bank of Belgium and was the first example of authentic Western-style masonry structure in Japan.
| | |
| --- | --- |
| Head office exterior (Main building / new building) | Head office exterior (Main building / new building) |
Photo courtesy of Bank of Japan
Tokyo Station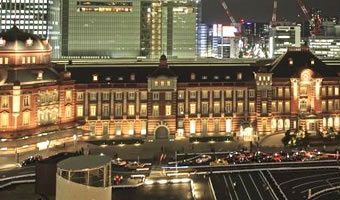 The station born at the hands of Kingo Tatsuno in 1914, following restoration work, was reborn in 2012 to feature a fusing of history and innovation. The original reliefs adorning the domes over the Marunouchi North and South Exit ticket gates are a must-see, as is the Tokyo Station Hotel situated within the important cultural property of Japan.
Meguro Gajoen
Praised as a Showa-period Palace of the Dragon King, the establishment is Japan's first wedding complex. One room leads to another via a long 99-step corridor dubbed Hyakudan Kaidan, or the Stairway of a Hundred Steps, built in 1935. The elaborate decorations are believed to represent the apex of traditional architectural aesthetics.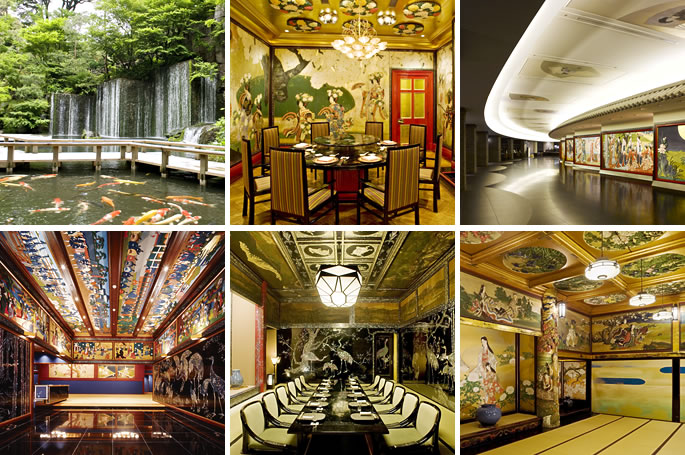 Photo courtesy of Meguro Gajoen
National Diet Building (House of Councillors)
At the time of its completion in 1936, the building was the tallest in Japan. The left and right wings of the 200-meter-long structure are designed symmetrically so as to maintain balance between the parliament's upper and lower chambers. The guided tour offers a view of the atrium-style Central Hall rising through the second to sixth floors to a height of some 32 meters.