Yoyogi National 1st Gymnasium: Bold Architecture for the Spirit of Tokyo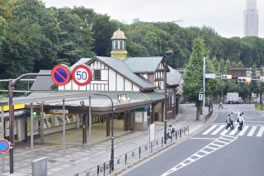 If you ask friends who are interested in Japanese architecture what buildings you should visit in Tokyo, chances they'll definitely tell you not to skip a visit to Yoyogi National 1st Gymnasium. Located in Yoyogi Park in Tokyo's Shibuya Ward, this sports stadium was built to host swimming and diving events for the 1964 Tokyo Olympics, and it's still used today for sports events and concerts. It's one of the best examples of modern Japanese architecture in the country.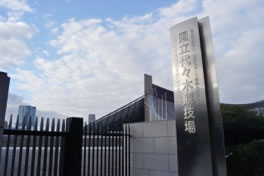 Yoyogi National 1st Gymnasium is a daring building. When it was built, the gymnasium had the world's longest suspension roof span. The roof, which is basically a steel net draped over two concrete pillars with steel plates overlain on top, gently rises from the ground to swoop up between the concrete pillars, then fall to the ground again. If you look at the gymnasium from outside, you'll see the roof curve around the building in a way that's daring and subtle at the same time.
What has always captivated me about Yoyogi National 1st Gymnasium is how it is bold enough to catch your eye, but somehow seems like it completely belongs in the surrounding landscape. That uncanny talent for combining opposites was the signature touch of Kenzo Tange, the architect who designed the gymnasium as well as many other landmark buildings in Japan and abroad. In Yoyogi, Tange combined the stadium's daring silhouette with seamless integration into the surrounding landscape. In the Tokyo Metropolitan Government Building, which he also designed, he managed to make futuristic twin 243-meter tall skyscrapers feel accessible, light, and airy at street level. In the Hiroshima Peace Memorial Park, one of the first projects of his career, Tange wove together elements of Japanese tradition with simple bare concrete construction to create a sparse but moving memorial to wartime tragedy.
I often wonder why Tange's buildings feel so accessible from street level, even though they are often dramatically distinct from what surrounds them. Yoyogi National Stadium is nothing like neighboring Meiji Shrine, for example. The former is a bold modern construction while the latter is a Shinto shrine built following centuries-old traditions. Both, however, are inviting, airy, and easy to wander in and out of. Tange studied not only architecture but also urban planning, and that background might be why his projects stand out not only for their boldness but also for the way they integrate with the surrounding landscape to draw people in. Tange must have understood that city spaces were not just collections of buildings. I think he saw cities as always growing and changing and thought buildings only belonged to a city if could draw people in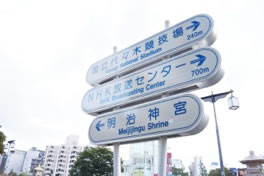 Yoyogi National 1st Gymnasium is, in fact, an example of the way buildings grow and change with a city. The gymnasium has stood relatively unchanged in Yoyogi Park for the last 49 years, but in the last few weeks Tokyoites have come to see it in a different light. For a long time, the gymnasium was an echo of the 1964 Olympics, which were held in a time when Japan had recovered from World War II and was looking to the future with great energy. Now, after learning that our city was chosen to host the 2020 Summer Olympic Games, the gymnasium seems not only like an echo from the past, but also a whisper of the global energy coming to Tokyo with the Olympics in 2020 that we are all waiting for.