Main content starts here.


Movie Town Shibuya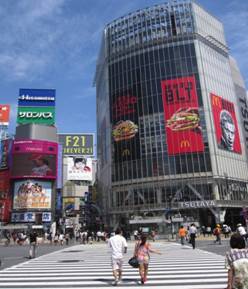 Tokyo in the movies is a city with many faces. From the gritty gangster-ridden city Humphrey Bogart took on in Tokyo Joe in 1949 to the glitzy metropolis destroyed by Godzilla in the 1954, from the headquarters of the villains in the 1967 James Bond film You Only Live Twice to the backdrop for of the high-end confusion of 2003's Lost in Translation, the last half-century's movies have shown some of Tokyo's many personalities.
A neighborhood with perhaps the quickest-changing personality in the city, Tokyo's Shibuya district is an iconic filming location. Right in the center of the city, this shopping, entertainment and transportation center has been featured in countless films, both foreign and Japanese. For many, the image of mobs of pedestrians barreling through Shibuya Crossing is the quintessential symbol of modern Tokyo.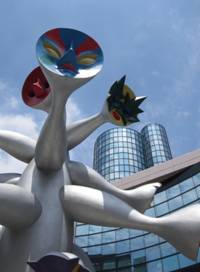 As memorable as Shibuya Crossing is, however, there's more Shibuya, in film or in real life, that this. Featured in movies from Babel to Babies, Shibuya's streets, shops, and nightlife are the perfect place for a Tokyo visitor to enter the world of Japan on film—and the quickest way discover that there's more to Shibuya than meets the eye. Or the camera!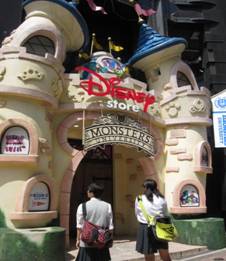 Most people, whether visitors or Tokyoites, don't think of Shibuya as a particularly baby-friendly place, but the 2010 documentary Babies by French filmmaker Thomas Balmès shows us the little-seen kid-friendly face of the neighborhood. Babies follows the lives of four infants in Japan, Namibia, Mongolia, and America. The Japanese baby in the film, Mari, lives in Tokyo, and in the film we see her mother bring her to nursery school in Shibuya. In real life, as in the documentary, Shibuya is a great place for kids. As I'm sure Mari from Babies would happily tell you, kid-friendly Shibuya has everything from Kodomono Shiro, a 13-storey building full of playrooms, music studios, sports gyms and more, as well as the toy-filled Disney store just a quick walk from the station.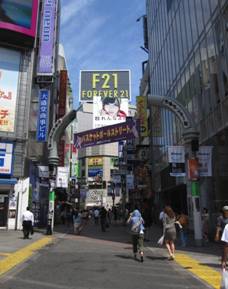 But what about teen-town Shibuya? In one of the intertwined storylines in Alejandro González Iñárritu's 2006 movie Babel a troubled Tokyo teenager played by actress Rinko Kikuchi explores teen life in Shibuya. You don't have to share the character's angst to follow in her footsteps through Shibuya's shops, bars, cafes, and nightclubs. Just head up the narrow bar-lined street called Center-gai Basketball Street, across from Shibuya Station. After tasting the action on Center-gai, walk up Dogenzaka Hill for more action in the nightclubs in the Maruyamacho neighborhood.
Finally, there's Shibuya for adults, which I think was best captured in an iconic scene from Sofia Coppola's 2003 film Lost in Translation. As one of the central characters is departing Japan by airport taxi, contemplating what to do with her life, the older American movie star friend she made during her stay in Tokyo stops her in Shibuya crossing to whisper something in her ear. While the two characters share this quiet moment, the video screens and pedestrian mobs of Shibuya Crossing rush along in the background. To me, this scene beautifully captures the magnetism of Shibuya: even in the rush of the crowds and action, there's space here for quiet moments. While I can't guarantee your experience will be as dramatic as the one in Lost in Translation, I promise that if you come to Shibuya and just stand still in the middle of Shibuya Crossing for a few seconds, you'll feel it too.
It's hard to say which has more depth and variety: Shibuya on screen or Shibuya in real life. The neighborhood seems to present a new face in each visit and in each new film, as both a well-filmed symbol of Tokyo and unexplored territory. Every Shibuya day, like every Shibuya movie, is something new.