Main content starts here.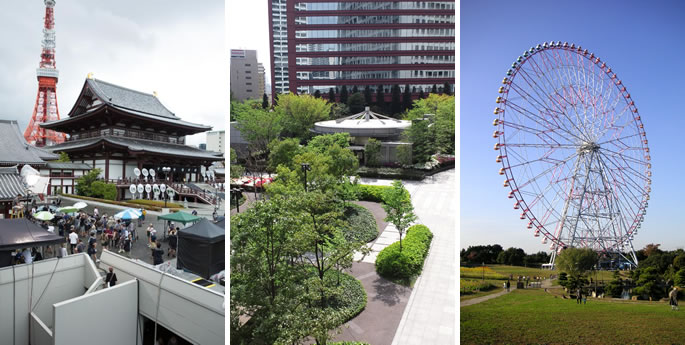 Your tour will be twice as fun if you get to know the work that features the location. Find out why the creators chose that site. Notice how the professional camera angle can transform an ordinary landscape into an amazing scene. Stand in the same position and strike the same pose as your favorite character. All this will make your visit even more memorable. It's always a good idea to read or watch the original work beforehand.
Tokyo: Japan's number one home to filming locations
Practically every corner of Tokyo is a setting for some popular drama, Japanese or foreign movie, or variety or infotainment TV program. The close-up of Tokyo Tower from Shiba Park… The new landmark TOKYO SKYTREE… The golden ginkgo trees of Meiji Jingu Gaien in autumn… All these are standard filming locations. Even a casual stroll around town is guaranteed to lead you to a familiar scene.
Where to find location maps
A location map will come in handy on your tour of filming locations. Tokyo Tourist Information Centers distribute maps, as do local Film Commissions—organizations that attract crews to their area and offer production support—which also offer information on filming locations on their websites. The Tokyo Metropolitan Government publishes five editions of a Tokyo Filming Location Map in four languages (Japanese, English, simplified and traditional Chinese, and Korean). The maps contain information friendly to foreign tourists, like works screened, broadcast, or even remade in Asia. So before you head out the door, check if a map is available for your destination.
For information on filming locations, check out this section.
Local Tourism Associations and Film Commissions offer information on filming locations. Once you've decided on a destination, visit their website or make an inquiry. Here are a number of websites that offer maps and other information for download.
(1)Tokyo Tourist Information Centers

Inquiries: 03-5321-3077
*For details on the three centers that distribute the Tokyo Filming Location Map published by the Tokyo Metropolitan Government
(2)Taito Film Commission

Inquiries: 03-5246-1148
*Search the site for major filming locations
(3)"Visit Sumida" Tourism Office (Sumida Film Commission)

Inquiries: 03-5608-6951
*Search the site for the filming locations of the drama and the setting of the manga Omo ni naitemasu (Mostly Crying)
*Download Sumida filming locations and tourist maps (PDF)
(4)Tama Area Film Commission

TEL: 042-843-1301
(5)Fuchu Location Service

Inquiries: 042-335-4095
Inquiries about filming locations in Tokyo
Discover × Tokyo Unforgettable Scenes: A Tour of Filming Locations in Tokyo