Seas of Chichijima, forests of Hahajima
The Ogasawaras' two populated islands, Chichijima and Hahajima, are about 50 kilometers apart, or two hours by boat. Chichijima offers an array of marine activities, and Hahajima the sight of pristine forests. Delight in the best of both worlds.
* The information given is as of July 2017.
Dolphin swimming & whale watching
Go skin diving and swim with the dolphins—if you're lucky, they might be the ones approaching you. Whale watching can be done either from a boat tour or a lookout on land, like the weather station observatory. Dolphins may be spotted year round, and whales mainly from December to May, with the peak season for the most popular humpback whale running from February to April. (Note that these are wild creatures, and sightings are not guaranteed.)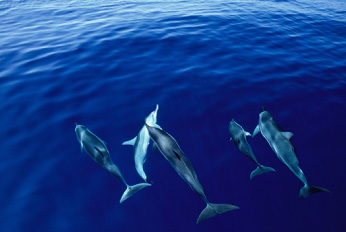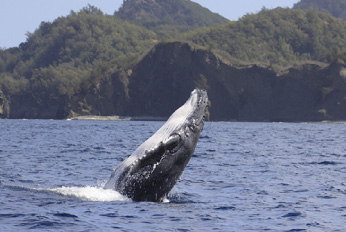 A short way from Chichijima is Minamijima, an uninhabited island formed from limestone. Access is restricted to preserve the wilderness, but possible with a guide. The treasure trove of rare offerings includes swimming in the ethereal beauty of the Ohgi-ike lagoon, encounters with hermit crabs designated a natural monument, and sightings of snail fossils.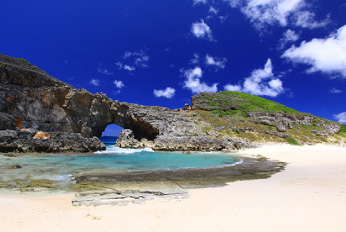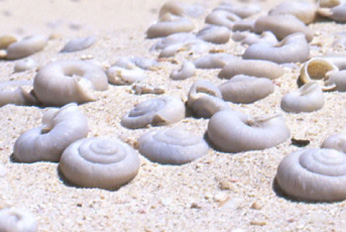 The waters around Chichijima are full of dreamy diving spots. The only area in Japan affected by the current from Micronesia offers the chance to witness colorful coral reefs, tropical fish, large migratory fish like the dogtooth tuna, and sea turtles. Even the relatively easy snorkeling spots, like "icemaker beach," provide a fantastic underwater view.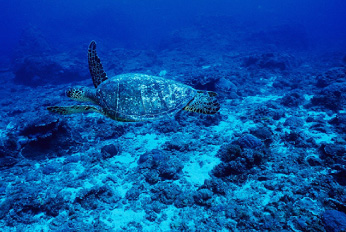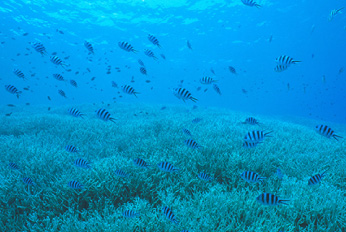 Tourist memo: Chichijima
To get around within the island, use the public fixed route bus, the tour bus circling the island, or a rental car, motorcycle, or bicycle. Shop for food and souvenirs in the district of Omura, near the Ogasawara-maru arrival point of Futami Port. The port area is also where many of the hotels are located, and the passenger waiting area offers free Wi-Fi connection. Visitors are recommended to book tours in advance, particularly in the busy seasons from July to September and the New Year holidays.
---
The Mt. Chibusa course, up the highest peak in the Ogasawara Islands, standing 463 meters tall, is full of highlights including former battle sites, huge banyan trees, and rare land snails and birds. The Mt. Kofuji–Minamizaki Beach course is also popular for the gentle trail that leads to a picturesque beach. Tourists are recommended to explore with a guide who knows Hahajima inside and out.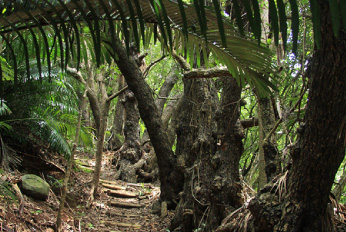 Mt. Chibusa is a treasure trove of endemic flora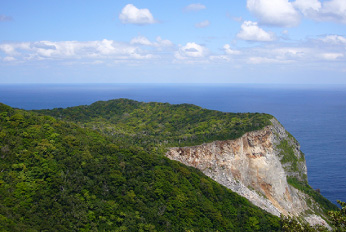 Sekimon Forest, home to endemic species of Hahajima, requires a guide; book one in advance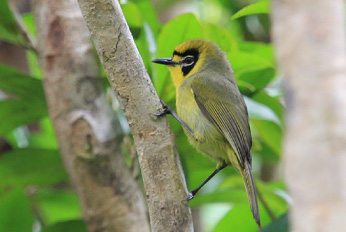 Bonin honeyeater is present only on Hahajima Island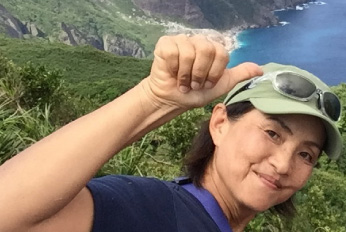 Many forest guides in Hahajima are nature guides authorized by the Tokyo Metropolitan Government
Follow up dinner with a night tour packed with surprise and enchantment. Hunt for glowing Yakotake (night light) mushrooms, aka "green pepe," and admire the star-studded sky known as the most marvelous in Japan. Depending on the season, you might even spot hermit crabs or sea turtles laying eggs.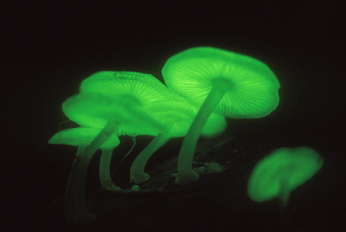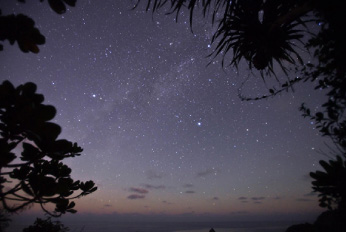 Tourist memo: Hahajima
Hahajima-maru, running between Hahajima and Chichijima, is scheduled to coincide with the arrival of Ogasawara-maru from Tokyo. Day trips are organized on days before Ogasawara-maru departs Chichijima (as of June 2017). To get around within the island, use pay transportation (shared taxi) or a rental car or motorcycle. Four to five restaurants operate on Hahajima.
---