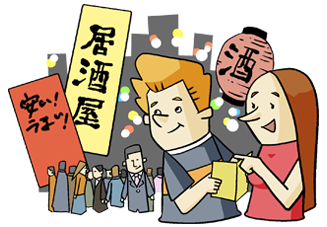 Izakaya first-timers are recommended to choose a busy place. The bustling atmosphere offers privacy, and helps you relax and set your own pace. An assorted crowd of men and women, young and old, usually means good food at a reasonable price. When choosing from a guidebook, look for a wide selection of today's specials, which are very likely made with the freshest seasonal ingredients.
2. Settling in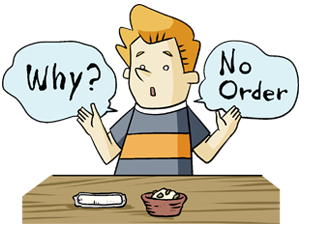 Once seated, you will be given a wet towel for wiping your hands, called oshibori, and a small portion of appetizer, called otoshi. The towel is often cool in summer and warm in winter. The appetizer is generally charged to the bill (several hundred yen or so) in lieu of a service charge. Enjoy the tidbit during the wait for your order to arrive.
3. Ordering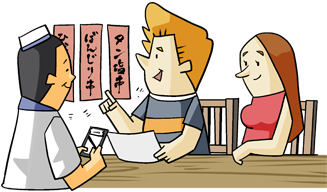 Before all else, order drinks. So many Japanese people start off with draft beer that "Toriaezu nama" comes out like a slogan. If you feel unsure about ordering food, ask the waiting staff, "Osusume wa?" (Any recommendations?). They will be happy to suggest popular menu items and dishes made with ingredients from the market on that day.
4. Paying the bill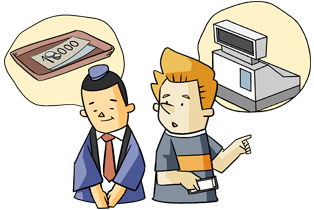 Whether you pay at the table or on the way out depends on the establishment. Which ever is common practice, the rules are seldom set in stone. Many izakaya will bring your bill to the table if you ask for it. "Kaikei onegai-shimasu" in Japanese or "Check, please" in English, either will work.
5. For a more in-depth experience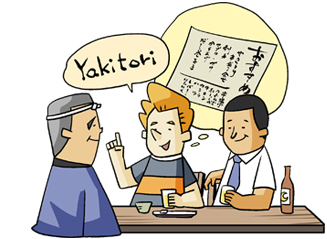 Izakaya with an illustrated or English-language menu are a safe choice. And then there's that cozy-looking place with an all-Japanese menu. By all means, work up the courage and walk in. Try your broken Japanese at the friendly local izakaya. The servers and patrons will surely help you, and might even welcome you into their special circle of regulars. Go on and take a chance.