Liquor lovers' heaven. Izakaya-hopping in Tateishi & Ebisu
In areas with a concentration of izakaya, why not pay quick visits to more than one place? Hop over to the nostalgic Tateishi and stylish Ebisu.
* The information given is as of December 2016.
Tateishi area
Tateishi is dotted with traditional izakaya that retain the nostalgic ambience of the good old Showa period in the 20th century. Reasonable prices are also an attraction and so ubiquitous that the area is called a Mecca for drunkards.
Chicken liver—a delicious accompaniment to liquor
Stop no. 1:Onko Chishin (Area: Tateishi)
Of the many dishes on the menu, one of the most popular is sashimi of chicken liver. The buttery mouthfeel and rich flavor make it a must-try delicacy. Many izakaya in Tateishi open before dark, but Onko Chishin is one of the earliest: 14:00 on weekdays, and noon on weekends and holidays. Delight in leisurely daytime drinking in the modern wooden interior.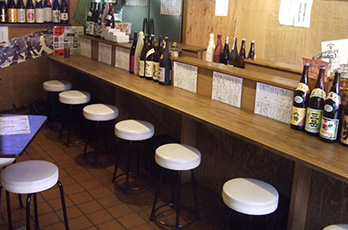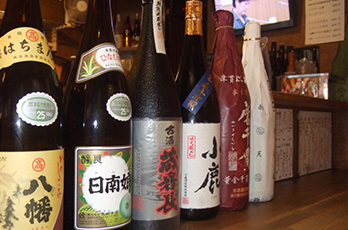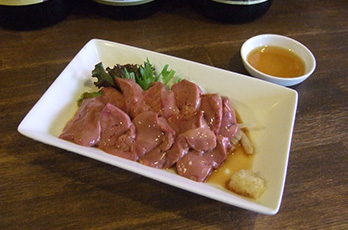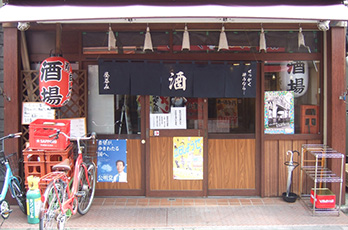 Steaming hot oden to savor with the shopping street's energy
Stop no. 2:Maruchu Kamaboko-ten (Area: Tateishi)
The store specializing in oden ingredients runs a sideline izakaya, where customers can taste the cooked pot dish and have a quick drink on the spot. Step into the charming open space separated from the bustle of the shopping street fronting the train station by only a fabric divider. Must-tries are the popular tomato oden and standard daikon radish and hampen fishcake. Finish with ojiya rice or udon noodles cooked in oden stock.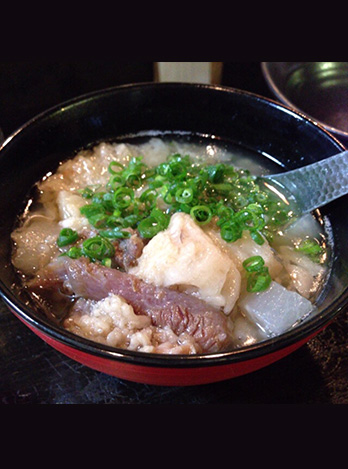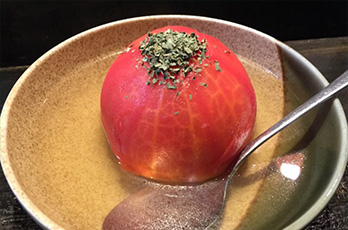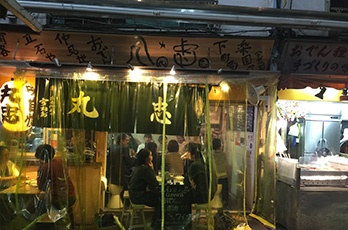 Time-honored izakaya in the "Mecca for drunkards"
Stop no. 3:Edokko (Area: Tateishi)
Finish the tour at Nombei Yokocho (drunkards' alley) lined with traditional izakaya. Seats at Edokko fill up quickly even on weekdays. The hospitable proprietress and staff of mainly women keep the busy shop running smoothly. This plus the friendly, chatty regulars will help beginners feel at home.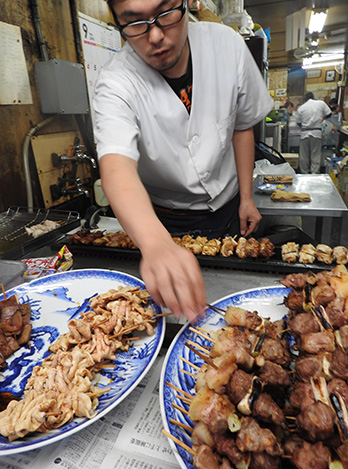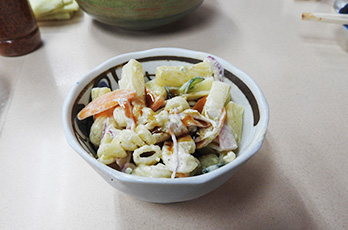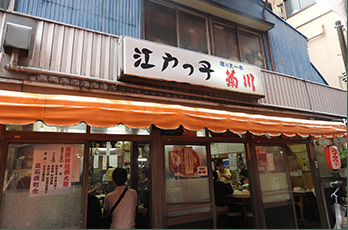 Ebisu area
Ebisu has a high concentration of bars and restaurants catering to a stylish, mature clientele. The izakaya are unique, too, some with smart interiors, others focusing on one type of dish, and yet more lining a yokocho alley packed with izakaya.
Tempura to enjoy casually, standing up
Stop no. 1:Kikuya (Area: Ebisu)
Kikuya presents a new style of izakaya where customers can enjoy authentic tempura and drinks at all-standing tables. The tempura menu includes standards like shrimp and conger eel, and original items like kakiage fritter of freshwater eel and coriander. Complementing the dishes is a list of select sake and sharp white wine. The modern Ebisu-style interior is a hit with women and foreign customers.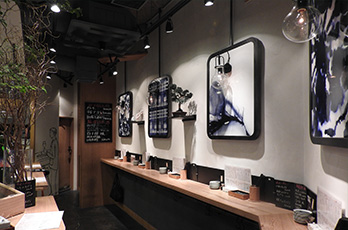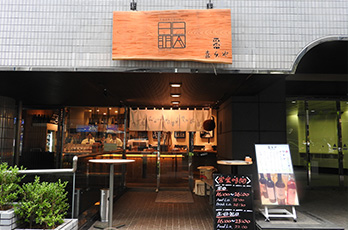 Dishes of fish selected by trusted connoisseurs
Stop no. 2:Uoshin Ebisu (Area: Ebisu)
Uoshin is popular for its wealth of fish-based dishes that make the perfect complement to sake. The izakaya is run by a fish wholesaler-retailer, so the produce is selected by trusted connoisseurs. Also great lovers of fish, the servers are happy to offer advice on recommend dishes and sake labels to match. Izakaya-hoppers looking for a quick drink should ask for a seat at the counter.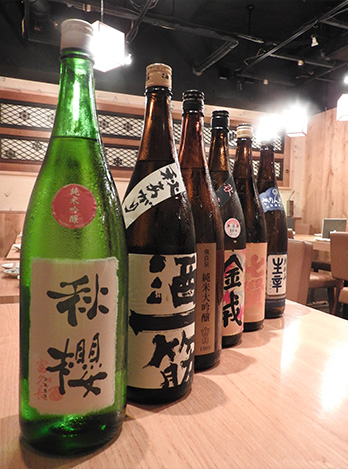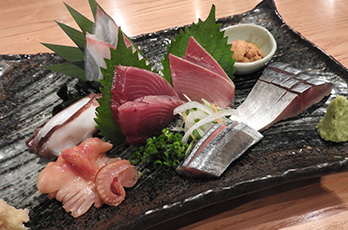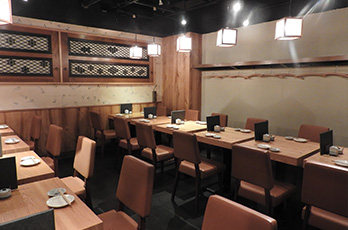 Beef tongue served in an alley packed with izakaya
Stop no. 3:Bekohira (Area: Ebisu)
Twenty tiny izakaya occupying a space of 10 to 20 square meters each in Ebisu Yokocho. The packed alley bustling with customers is a sight to behold. One establishment, Bekohira, specializes in beef tongue. Try the broiled beef tongue core and seared beef tongue prepared before your eyes, along with sake and shochu selected to match the dishes.