Haneda Airport isn't only for flying out and greeting passengers. It's packed with spots to enjoy even if you aren't flying, like observation decks, a planetarium, a museum displaying national treasure-worthy artworks, and a mailbox topped with an airplane.
* The information given is as of June 2016.
Observation Deck
Haneda Airport counts the largest number of flights taking off and landing in Japan. It welcomes visitors free of charge to observation decks in all three passenger terminals—Domestic 1 and 2, and International. The best is that in Domestic Passenger Terminal 2 (5F), dubbed "stardust stage," where some 4,000 LED bulbs are embedded in the deck to create a romantic view at night.

[International Passenger Terminal]
Address
International Passenger Terminal 5F,
2-6-5 Haneda Kuko, Ota-ku, Tokyo
Contact information
03-6428-0888 (General Information)
(Japanese, English, Chinese, and Korean only)
Insite link
http://www.gotokyo.org/en/kanko/ota/spot/40016.html
Planetarium Starry Café
Haneda is the first airport to house a planetarium. The rare spot even comes with a built-in café, so visitors can enjoy a meal while gazing at the stars. The menu includes sweets and original cocktails inspired by the starlit sky. Families are invited to take in the seasonal views of the sparkling cosmos, plus an animated film featuring the terminal's character Starry.
Discovery Museum
Japan's first in-airport museum displays precious items centering on antique artworks collected by the 700-year-old Hosokawa clan. The lounge lined with sofas invites visitors to sit back and appreciate the pieces of art at leisure.
Airplane mailbox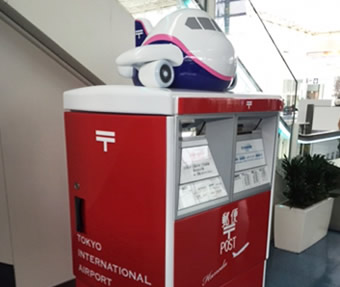 A mailbox topped with a model airplane is installed in the departure lobby at the International Passenger Terminal (3F).
Discover × Tokyo Explore Haneda Airport Inside and Out