The Candy Man on Dumpling Slope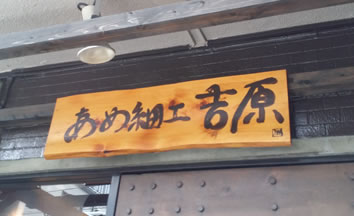 There's a hill in the Sendagi neighborhood of Tokyo called Dango-zaka, or Dumpling Slope. The name may have come from the sweet dumpling shops that used to line the hill, or the dumpling-shaped rocks that used be scattered there. Nobody knows for sure.
What everyone does know about Sendagi and the nearby Yanaka and Nezu neighborhoods is its reputation as a shokunin district. Shokunin means artisan or craftsman, and since the Edo era this part of Tokyo has been famous for the many artisans past and present who practice their crafts at workshops around the area.
Takahiro Yoshihara is a Sendagi shokunin. To be specific, he is an ame shokunin, or candy artisan. Yoshihara-san is a master of the art of amezaiku, or traditional Japanese candy making, and he's one of only about 40 amezaiku artists working in Japan.
This small number of candy artists is continuing a tradition that's over one thousand years old. Candy making in Japan started in Kyoto in the 8th century and was originally used for temple offerings. In Tokyo in the Edo period (1602-1868), candy making evolved into a kind of street performance. Candy craftsmen would walk the streets of the city making candy for children on request. While you can't see candy making on Tokyo streets anymore, Yoshihara-san and his fellow amezaiku artists are keeping the tradition alive in their candy studios, as well as sometimes holding live candy making performances at special event sites.
Fun to eat, hard to make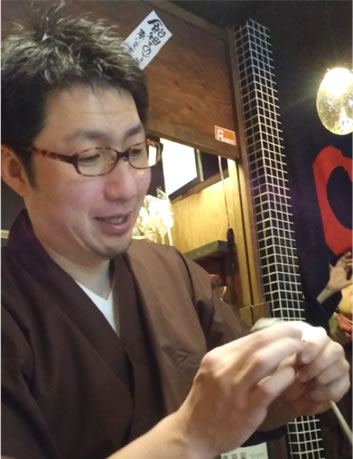 The walls are lined with hard candy in all shapes and colors: candy roses, candy rabbits, candy houses, a candy bride and groom waiting to be bought as a wedding present, and even a candy version of Yoshihara-san himself, complete with candy spectacles.
I'm so mesmerized by the candy displays that I almost don't notice Yoshihara and his apprentices bustling about the workshop getting ready for my candy making lesson. In addition to making traditional hard candy in almost any shape imaginable, Yoshihara-san and his helpers teach one-hour amezaiku lessons to anyone who wants to learn.
I want to learn. Yoshihara-san asks me what candy creation I'd like to make. A dolphin or a rabbit? Rabbits are a bit easier than dolphins, he says. Because I am a complete candy making beginner I decide to try my hand at making a candy rabbit.
When Yoshihara-san brings out the tools I'll need to make my rabbit, I begin to wonder if I'm in over my head. He sets out a pair of cotton gloves, a pair of latex gloves, a jar of wooden sticks, a pair of traditional Japanese u-bend scissors, and finally a pot of hot white toffee-like syrup. The trick to making traditional Japanese hard candy, he says, is to work as quickly as possible, because the syrup hardens in two or three minutes.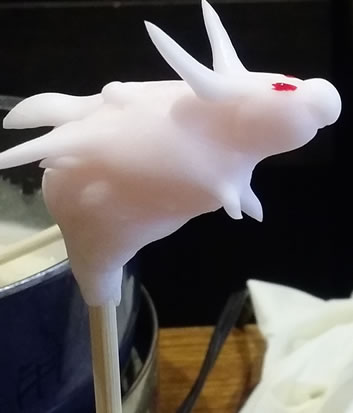 I do my best. The candy syrup is about 80 degrees Celsius, so without gloves I'd quickly burn my hands. Even with gloves, it's a challenge. I have to knead the syrup, shape it into a smooth ball, put it on a stick, grab the scissors and shape the rabbit's ears, front legs, hind legs, and tail before the candy hardens. After making a few practice rabbits that look more like misshapen chipmunks, I manage to make something that looks like the candy love child of a rabbit and a pig. It's very ugly, but I'm very proud. Perhaps candies are like children: if they're yours, you think they're beautiful.
A Tokyo Shokunin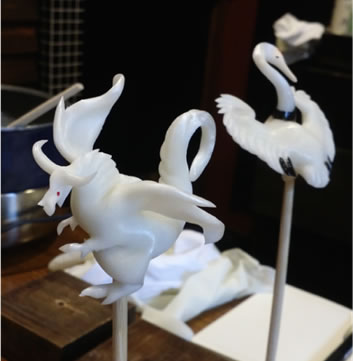 Before I can feel too proud of myself and my candy making skills, though, Yoshihara-san shows me what a master candy maker can do. In my time in Japan I've had the opportunity to watch a master calligrapher Buddhist monk practice his art in a Kansai area temple, and to see a master woodcarver in Gifu prefecture work on a figurine. Watching these master shokunin practice their craft was unforgettable, and watching Yoshihara-san make candy is the same experience.
He grabs a ball of candy syrup, kneads it, shapes it, and grabs his scissors. Snip, stretch, snip, bend, and boom, suddenly there's a beautiful white candy crane standing in front of me. Yoshihara-san grabs another ball of candy syrup and with another snip, stretch, bend, and whoosh he's made a fierce candy dragon. I'm amazed and delighted. I see why Edo-era children loved when traveling amezaiku artists came to visit.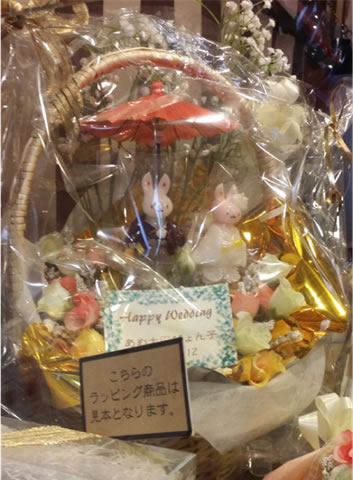 Yoshihara-san wasn't always a candy artist. When he was younger he used to be a chef, and spent time in Italy studying Italian cuisine. When he was staying in a youth hostel in Italy and chatting with travelers from around the world, someone asked him why he wasn't studying something Japanese. The question motivated Yoshihara-san to apprentice himself to a master Japanese candy artist, then to travel to different countries promoting the amezaiku tradition, and finally to open his own candy workshop and teach candy making to anyone with an interest.
After leaving Amezaiku Yoshihara, I walk back down Dango-zaka with the candy pig-rabbit I made, and decide that Yoshihara-san is the quintessential Tokyo shokunin. He's as traditional and forward-looking as the city itself. All across this city, in tiny workshops and studios like Yoshihara-san's candy studio, Tokyo's artisans are merging centuries of tradition and a Japanese devotion to craftsmanship with an open global outlook. And, at least at Amezaiku Yoshihara, the results taste pretty good!