Main content starts here.


Every trip involves shopping for souvenirs and everyone's favorite souvenir is sweets. Even Japanese tourists love traditional Edo-style confectionery and the hottest products from brand new stores located only in Tokyo. Many foreign tourists like to stock up on affordable snacks. This issue presents candy crafting workshops that double as tourist destinations, plus spots that offer fresh-made versions of familiar sweets, nostalgic dagashi snack shops, and more. Discover all there is to know about the sweets scene in Tokyo.
* The charges and prices given include consumption tax (as of February 2015). Note that prices are subject to change for various reasons.

This section introduces workshops where artisans offer lessons and make it easy for anyone to craft traditional Japanese confectionery. Some even let you experiment and make your own version. Try your hand at creating one-off sweets, and then enjoy. For details on making amezaiku candy sculptures and kaminari-okoshi puffed rice treats, check out the "Workshop report."
Amezaiku Yoshihara
Practice a few times and sculpt your candy in one go
"As a child, I was enchanted with the candy sculptures at neighborhood festivals." Amezaiku artist Takahiro Yoshihara opened Japan's first store specializing in candy sculptures in 2008. The shelves are lined with candy animals and flowers, and the artists will even sculpt a fresh piece for you. A popular figure is the store's mascot Amepyon, who can take on any number of poses. For the perfect gift, bring a photograph of the recipient and order a candy sculpture in the image of that person's face.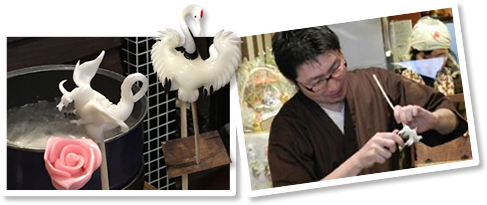 Address
Tomoe Bldg. 1F, 1-23-5 Sendagi, Bunkyo-ku, Tokyo
Access
1-min. walk from Tokyo Metro Chiyoda Line Sendagi Station
Hours
12:00~19:00
Closing days
Monday and Tuesday (open when either day falls on a holiday)
Workshop data
Charges
2,500 yen
Time required
60 min. (10:00–11:00 only on Sundays)
Group size
1–6 persons
Sign up
Reservations required by phone or email
Languages
Japanese only
Contact information
03-6323-3319
URL
http://ame-yoshihara.com/workshop/workshop.html(External link) (Japanese)
Tokiwado Kaminari 5656 Chaya
Address
2-7-3 Asakusa, Taito-ku, Tokyo
Access
7-min. walk from Tokyo Metro Ginza Line / Tobu Skytree Line Asakusa Station
3-min. walk from Tsukuba Express Asakusa Station
Hours
9:00~17:30
Closing days
Tuesday
Workshop data
Charges
2,000 yen
Time required
30–60 min.
Group size
1–40 persons
Sign up
Reservations required by phone (email not accepted)
Languages
Japanese only
Contact information
03-3844-5656
URL
http://tokiwado.tokyo/shop/5656chaya/okoshi_taiken.html(External link) (Japanese)
Boil, spread, chop, and enjoy an Edo-style puffed rice treat
Tokiwado was founded some 250 years ago in the premodern Edo period. The signature kaminari-okoshi puffed rice treat comes in a standard flavor as well as limited-edition seasonal flavors. To the west of the five-story pagoda at Senso-ji Temple, Kaminari 5656 Chaya—kaminari is thunder, the numbers read "goro goro" for the roar of thunder, and chaya is teahouse—offers workshops whenever there's a need. The fun and easy lessons attract 5,000 to 6,000 people each year, centering on students on field trips. Although reservations are the rule, drop-in visitors are accepted when an opening is available.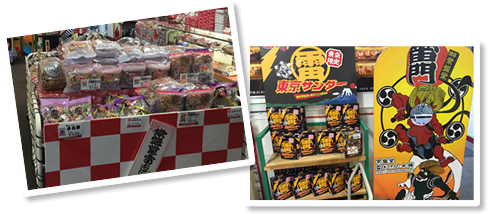 Machida-an Wakabado
Carve a bouquet of wagashi from colorful sweet bean paste
Wakabado is renowned for handmade wagashi, or traditional Japanese confectionery. It has produced countless products designated as Machida specialties, like the sweet titled Yakushi-ike depicting the picturesque pond and irises of Yakushi-ike Park. The owner and inventor of these masterpieces welcomes visitors into his studio for lessons in making fine unbaked wagashi. Pupils learn to carve delicate petals from sweet bean paste in pink and yellow, and create sweets that are a feast for the eyes as well as the palate. Note that cameras are not allowed in the studio.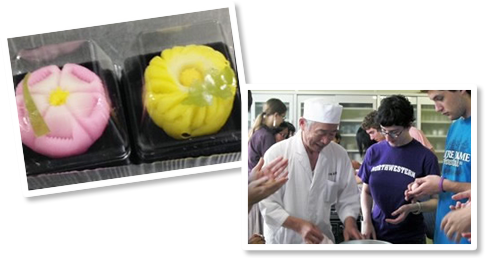 Address
3-24-6 Nakamachi, Machida-shi, Tokyo
Access
10-min. walk from JR Yokohama Line / Odakyu Line Machida Station
Hours
9:00~19:00
Closing days
Tuesday (twice a month)
Workshop data
Charges
1,620 yen (2 pieces)–
Time required
40 min. (2 pieces)–
Group size
6–15 persons
Sign up
By phone or email
Languages
Japanese only
Contact information
042-723-1634
URL
http://www.wakabado.co.jp/(External link) (Japanese)
Kagurazaka Jizoya
Address
11-5 Fukuro-machi, Shinjuku-ku, Tokyo
Access
5-min. walk from JR Sobu Line / Tokyo Metro Tozai Line / Tokyo Metro Yurakucho Line / Tokyo Metro Namboku Line / Toei Oedo Line Iidabashi Station
Hours
10:30~19:00
Closing days
Sunday and holidays 12:00~19:00
Workshop data
Charges
980 yen (5 pieces)
Sign up
Reservations required by email
Languages
Japanese only
Contact information
kagurazakajizouya@mbr.nifty.com
URL
http://kagurazakasenbei.com/hpgen/HPB/categories/16610.html(External link) (Japanese)
Grill, brush with soy sauce, and make your own rice crackers
Jizoya is celebrated for handmade sembei rice crackers made from additive-free ingredients and grilled the traditional way over binchotan charcoal. Products include Handmade Sembei of which only 15 bags are made each day, Ultra Thins friendly for people with weak teeth, and a variety of classics flavored with soy sauce, granulated sugar, and chili powder. Workshops are offered for making Thin Sembei. Pupils use an induction cooker. Grill the sembei, brush with soy sauce, and grill again—the steps are simple even for small children.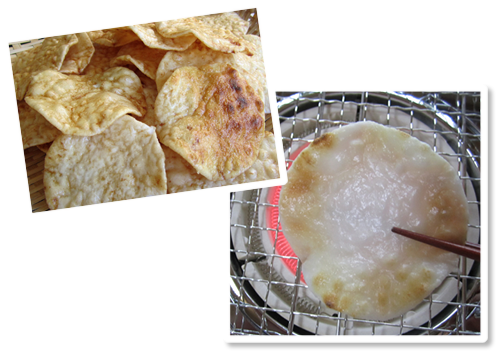 Max Brenner Chocolate Bar Hiroo Plaza
Decorate a three-tier chocolate cake with any topping you like
Max Brenner is a chocolatier based in Israel. The hottest item at the Hiroo Plaza store is the BYO Cake. Customers are provided with three layers of sponge cake and an array of toppings—chocolate cream, ganache, fruit, and more—with which to create their dream three-tier cake. Another popular signature dish is the chocolate fondue Classic European.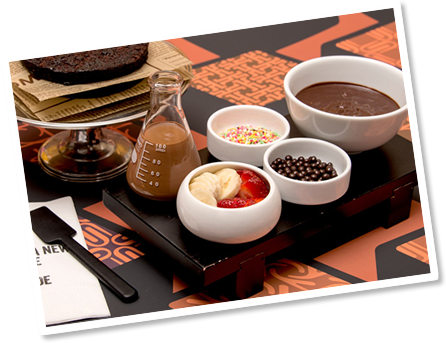 Address
Hiroo Plaza 1F, 5-6-6 Hiroo, Shibuya-ku, Tokyo
Access
1-min. walk from Tokyo Metro Hibiya Line Hiroo Station
Hours
9:00–21:00 (last order 20:30)
Saturday, Sunday, and holidays 8:30–21:00 (last order 20:30)
Closing days
Irregular
Workshop data
Charges
BYO Cake 2,000 yen, Classic European 2,000 yen
Languages
Japanese only
Contact information
03-6450-2400
URL
http://maxbrenner.com/(External link)