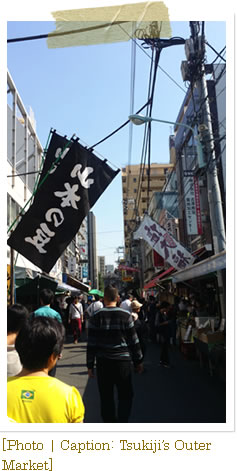 It can be hard to find a quiet moment at Tsukiji Market. Both the inner and outer sections of Tsukiji Market buzz with activity from the dark hours before sunrise to well into the afternoon. In the inner wholesale section of the market motorized carts zip about delivering fresh fish, seaweed, and other seafood from wholesalers to commercial buyers.

In Tsukiji's outer market, you'll hear shopkeepers yelling irrashaimase (welcome!), delivery staff zipping about on bicycles and carts, the murmur of conversation between shopkeepers and restaurant owners and their customers, and the sound of city traffic rushing past on nearby Harumi Street. Tsukiji, which is located in Tokyo's Chuo Ward between the upscale Ginza shopping district and the Sumida River, is the largest wholesale market in the world. Officially it's known as the Tokyo Metropolitan Central Wholesale Market, but Tokyoites refer to it simply as Tsukiji.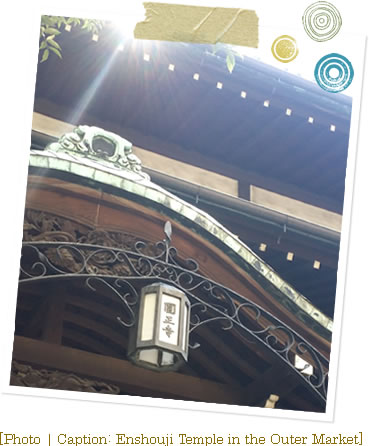 It's a lively place, but when you do find a silent second at Tsukiji, stop for a moment and take a deep breath. On clear days, especially in winter, you'll pick up hints of salty ocean air. This is a reminder of the area's past: Tsukiji, which literally means "reclaimed land," was actually part of the Sumida river delta until the mid-17th century. Following a devastating fire in the capital, the shogunate government ordered the marshlands in what is now Tsukiji filled in and converted into a temple district. Fifty-eight temples relocated here and marshland birdsong was gradually replaced by the sound of bells and chanting monks. Though only a few temples remain at Tsukiji, you can sometimes still hear their bells. Over the next two centuries Tsukiji morphed from a temple town to a foreigners' enclave to its current incarnation as the world's largest wholesale market. When Japan opened up to foreign trade in the late 19th century, Tsukiji became one of the few areas where foreigners were permitted to live. The district soon became a thriving center for education and missionary work, as well as the site of Japan's first western-style hotel, the Tsukiji Hotel, which opened in 1868. Tsukiji was reborn again following the Great Kanto Earthquake of 1923, when most of central Tokyo suffered severe damage. As part of rebuilding efforts, the city's wholesale market was relocated from nearby Nihonbashi to Tsukiji. It officially opened for business in 1935 and has been bustling ever since.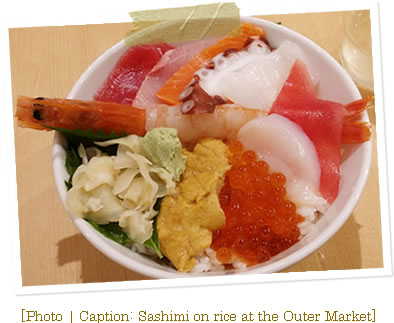 Tsukiji is still going strong almost eighty years later. The inner market, where wholesalers receive fish and seafood from all over the world to sell on to buyers from restaurants and supermarkets, It's schedule to move to new facilities in the nearby Toyosu district, on reclaimed land in Tokyo Bay, in 2016. The outer market, however, isn't going anywhere. Best described as Tokyo's kitchen, Tsukiji's outer market covers two city blocks and is filled with over 350 tiny shops selling all manner of cookware and ingredients as well as restaurants offering the world's freshest sushi and sashimi.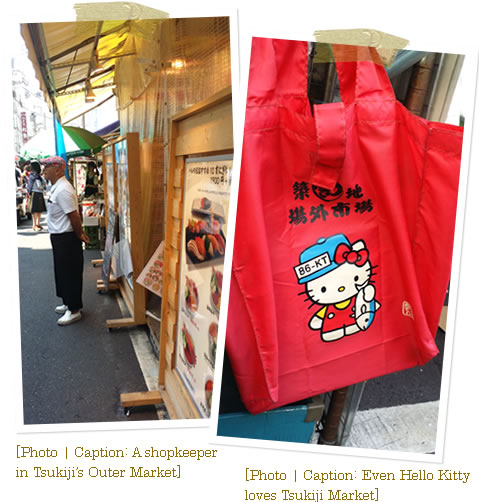 Everything you need to cook up a hearty Japanese meal is here. You'll find shops selling the dried bonito fish used to make the dashi broth that is the backbone of Japanese cooking, bunches of wasabi roots sourced from farms across Japan, specialty mixes of shichimi chili powder, pots and pans, and everything else you'd need in a well-stocked Japanese kitchen. You can even buy a high-grade Japanese knife long and sharp enough to slice through the tail of a frozen maguro tuna fish, if that's on your shopping list. In addition to their seemingly endless inventory of kitchen supplies, cooking ingredients, and fresh sushi and sashimi options, shopkeepers and restaurateurs in Tsukiji's outer market also have seemingly endless enthusiasm for making conversation. Although Japanese people in general are often eager to chat with foreign visitors, Tsukiji shopkeepers take it up a notch. If you've been learning Japanese and are eager to practice over a meal of fresh sushi, there's no better classroom than Tsukiji. If you want to understand a culture, start in the kitchen. By visiting Tsukiji, Tokyo's kitchen, you'll get a sense of the layers of history behind Tokyo's neighborhoods. You'll see firsthand the meticulously organized chaos that is life in the largest city in the world. You'll appreciate Japan's growing economic and cultural connections with other countries. You'll have a chance to chat to the city's friendliest shopkeepers. And, most importantly, you'll eat the best sushi of your life.