Main content starts here.

The origins of ramen lie in Chinese noodles. Rairaiken, founded in 1910 in the Asakusa area of Tokyo, is believed to be the first restaurant to serve the dish in Japan. At the time, ramen soup was generally made from Chinese-style stock based on chicken bones. More than a century later, today soups are made from a broader variety of ingredients, and shops are even categorized according to their specialty. Here we introduce the four standard soup bases along with the ramen houses famous for them.

Tonkotsu soup originates from the Kyushu region. Pork bones are either boiled for many hours or heated in a pressure cooker until they turn a cloudy white color. Different ramen houses use bones from different parts of the carcass, such as the head or back, but the leg bones, called genkotsu, are said to make the tastiest broth. The resulting soup has a slightly pungent smell and yet a mild, creamy flavor. This is coupled with ultra-thin noodles, and the serving is smaller than with other types of ramen, which is why many customers order seconds, or kaedama.
Ichiran Shibuya Spain-zaka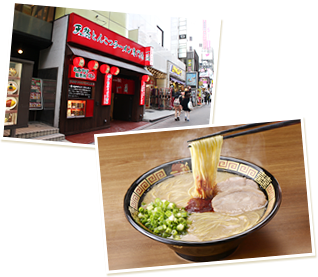 Ichiran's tonkotsu soup has a mild smell and is rich with natural collagen. Each bowl is topped with an original spicy sauce, which can be blended with the soup to change the flavor. Ichiran features partitioned seating so that customers can focus on their bowl of ramen in the privacy of their own space.
* The house runs several other locations in Tokyo
Ippudo Ginza
Ippudo is a major name worldwide, with locations in countries ranging from the United States to China. The house's signature dishes are Shiromaru Moto-aji (pictured right), featuring a standard tonkotsu soup, and Akamaru Shin-aji (pictured left), topped with flavored oil and spicy miso paste.
Address
4-10-3 Ginza, Chuo-ku, Tokyo
Tel
03-3547-1010
Opening hours
11:00-2:00 the following day (last order)
Fridays, Saturdays, and eve of holidays 11:00-3:00 the following day (last order)
Sundays and holidays 11:00-1:00 the following day (last order)
Closing days
None
URL
http://www.ippudo.com/( External link )( Japanese )
* The house runs several other locations in Tokyo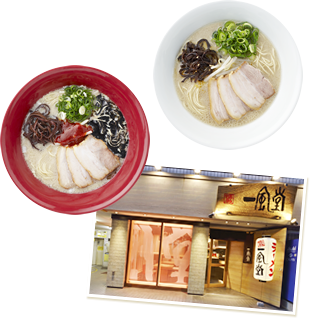 Torigara is the most popular ramen soup, made by simmering chicken bones with vegetables such as ginger and onions. The transparent golden soup has a mild, clear flavor. This is blended with a soy sauce-based seasoning paste, or tare, to create the familiar Tokyo-style ramen. In recent years, an increasing number of restaurants serve deluxe soup made from free-range brands of chickens or whole chickens. Whatever cut of chicken is simmered, the fat that rises to the surface, called chiyu, is used to add flavor and accent for the final touch.
Ivan Ramen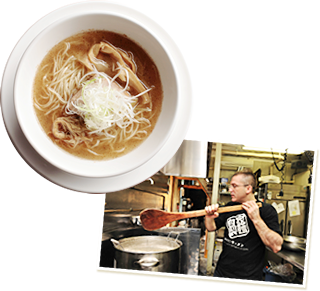 American chef Ivan Orkin fell in love with ramen, taught himself the art of cooking it, and opened Ivan Ramen. The shop's exquisite shio (salt-flavored) ramen combines a delicate soup made from whole chickens with housemade thin noodles. He has also set up shop in New York.
| | |
| --- | --- |
| Address | 3-24-7 Minami Karasuyama, Setagaya-ku, Tokyo |
| Tel | 03-6750-5540 |
| Opening hours | 11:30-15:00(last order)、18:00-23:00 (last order)、Saturdays, Sundays, and holidays 11:30-21:30 (last order) |
| Closing days | Wednesdays |
| URL | http://www.ivanramen.com/( External link ) |
Ramen Yamaguchi
Ramen Yamaguchi is one of the most popular shops in the Takadanobaba-Waseda area, with a high concentration of ramen houses. Yamaguchi's secret is the bright golden soup. The signature Torisoba highlights the savory broth made only with the bones and wings of high-grade free-range chicken.
Address
2-11-13 Nishi Waseda, Shinjuku-ku, Tokyo
Tel
03-3204-5120
Opening hours
11:30-15:00 (last order)、17:30-21:00 (last order)、Sundays and holidays 11:30-17:00(last order)
* Closed when sold out
Closing days
Mondays (Closed the following day when a holiday falls on a Monday.)
URL
http://nyami.cocolog-nifty.com/( External link )( Japanese )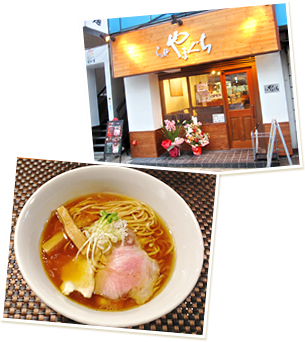 Ramen has produced a spin-off: tsukemen. The noodles are dipped in the soup, served separately, similar to cold soba. Flavors vary greatly, but the most popular is noko gyokai tonkotsu. Pork bones, chicken bones, and seafood are simmered together until the broth is thick—noko—in texture and taste-wise. The noodles are ultra-thick and filling so the soup is not too overpowering. Once finished with the noodles, customers can ask for the remaining soup to be thinned to a consistency suitable for drinking. This is called soup-wari.
Rokurinsha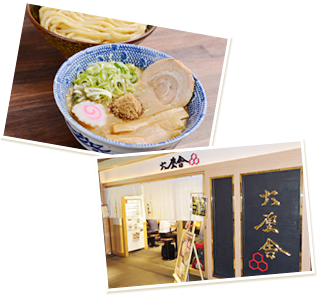 Rokurinsha is an immensely popular shop, which started the tsukemen boom in Tokyo. Pork bones and chicken bones are simmered for many hours until the soup is thick, so it clings to the ultra-thick noodles. The topping of fish powder is original to Rokurinsha. The ramen house also has a branch in Tokyo Solamachi.
| | |
| --- | --- |
| Address | Tokyo Ramen Street, First Avenue Tokyo Station B1, 1-9-1 Marunouchi, Chiyoda-ku, Tokyo |
| Tel | 03-3286-0166 |
| Opening hours | 7:30-9:45 (last order)、11:00-22:00 (last order) |
| Closing days | None |
| URL | http://rokurinsha.com/( External link )( Japanese ) |
* The house runs several other locations in Tokyo
Tsukemen Tetsu, Sendagi Flagship
Tetsu couples its specialty gyokai tonkotsu soup featuring a mild, slightly sweet flavor with chewy housemade noodles. The soup is always steaming hot, as the establishment provides a hot stone for reheating. Note that the menu changes after 17:00. Tetsu has numerous branches at locations such as Roppongi Hills.
Address
4-1-14 Sendagi, Bunkyo-ku, Tokyo
Tel
03-3827-6272
Opening hours
11:00-16:00、17:00-23:00
* Closed when sold out
Closing days
None
* The house runs several other locations in Tokyo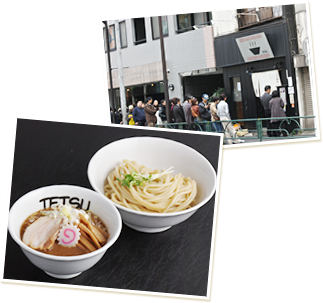 Both the tonkotsu soup and the torigara soup contain some seafood stock—based on dried fish, or niboshi, and bonito flakes—for added depth and aroma. Gyokai soup promotes this seafood stock from a supporting role to a leading role, and it is gaining popularity in recent years. The ingredient of choice is niboshi: not everyone likes ramen dishes that feature its distinct smell and bitterness, but those who do often become huge fans. Note that most gyokai soups also use pork bones and chicken bones.
Ramen Nagi Niboshio Shinjuku Golden-gai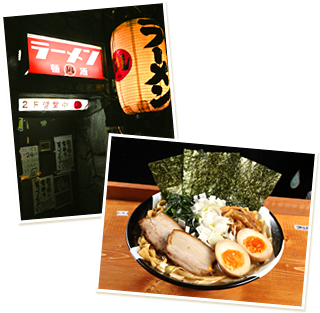 Ramen Nagi runs sister shops in Taiwan, the Philippines, Hong Kong, and Indonesia. The Golden-gai branch specializes in niboshi-based ramen. Each serving of soy sauce-flavored soup contains more than 50 grams of over 20 types of niboshi for maximum flavor and aroma.
* The house runs several other locations in Tokyo
Shinasoba Tanaka
Shinasoba Tanaka's Ajinibo Soba features a 100% gyokai soup, using no pork bones or chicken bones. Dried horse mackerel and three other types of niboshi are simmered to create a rich, savory seafood stock without the pungent smell. Order without the topping of barbecued pork for a meat-free meal.
| | |
| --- | --- |
| Address | 2-19-2 Higashi Ikebukuro, Toshima-ku, Tokyo |
| Tel | 03-3988-0118 |
| Opening hours | 11:30-14:30 (last order)、17:00-20:00 (last order)、Saturdays 11:30-14:30 (last order) |
| Closing days | Sundays and holidays |
The page Dining in Tokyo introduces ramen offered in different areas of Tokyo in a section called "Ramen zones."
* Data on ramen houses are as of September 2014.