Eat Your Way Through Tokyo's Cherry Blossom Season!
Winter in Tokyo is no great trial. The temperature rarely goes below freezing, days are sunny, and the air is often clear enough to see snow-covered Mt Fuji from the city. And of course the winter season brings gourmet delights like oden stew, mikan tangerines, rich winter fish like kan-buri winter yellowtail, and, of course, cups of atsukan hot sake. It's not so bad at all.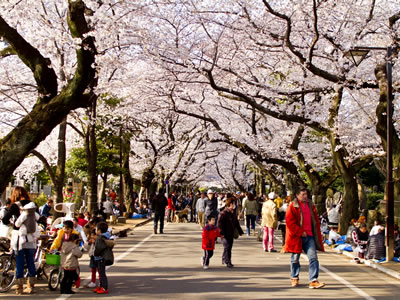 Winter in Tokyo is actually quite pleasant, especially for me as a Canadian. Still, nobody here hesitates to celebrate the arrival of spring with great enthusiasm. As soon as the first pink cherry blossoms start to bloom, Tokyoites pull out all the stops. Groups of friends, coworkers, classmates and relatives flock to parks and gardens to spread out bright blue tarpaulin sheets for hanami cherry blossom viewing picnics. These usually go on for hours or even days as people eat, drink, catch up with old friends, and, more often than not after the sake starts flowing, make new friends with their hanami neighbors. I've never felt the atmosphere of a city change so rapidly from business to pleasure as it does in Tokyo during cherry blossom season.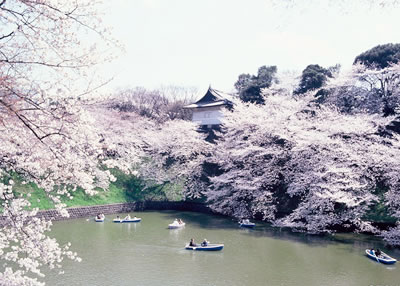 Over my years in Tokyo I've had the chance to attend many a lively hanami party. Inevitably at some point in the night someone will mention that cherry blossom parties are the essence of Japan. They give people a chance to express traditional Japanese appreciation for both fleeting beauty and the enduring ties of friendship. While I'm sure this is true, I can't help but observe that there's a third Japanese value at play in hanami season: a deep love of eating! Any visitor to Tokyo who takes a quick look at the gourmet delights spread out on a typical blue hanami tarp will quickly realize that Japan is a nation of very enthusiastic food lovers.
Delights you might encounter at a typical hanami include sticks of grilled yakitori chicken with salty-sweet tare sauce, yakisoba fried noodles served with red picked ginger, bright green edamame salted soybeans, inari-zushi sushi rice stuffed in fried tofu pockets, maki-zushi rolled sushi, and more. No hanami would be complete without glasses of cold, light, Japanese beer, fresh sake, or bracing shochu liquor mixed with anything from plum juice to green tea. And then there are the deserts: trays of delicate wagashi Japanese sweets and rich cakes and pies from Tokyo's many Western-style patisseries. The cherry blossoms are gorgeous and hanami is certainly a treat for the eyes, but it's just as much a treat for the stomach.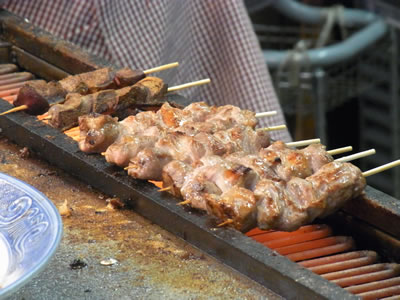 Everything begins in Japan in the springtime. The school year and the fiscal year start in April, right at the end of cherry blossom season. From six-year-olds heading off to elementary school for the first time to fresh college graduates suiting up for their first company jobs to new retirees starting lives of leisure, cherry blossoms mark a time of fresh starts and new experiences. Even if you're not a Japanese school kid or salaryman, you can still join in on this season of new experiences in Tokyo by laying out a blue tarp under the cherry blossoms and tucking into an unfamiliar but unforgettable hanami picnic spread.