Tokyo is home to the perfect shops for toys that fascinate both children and adults, including merchandise based on characters born in Japan and popular the world over.
An oasis of character merchandise even the world's celebrities visit
KIDDY LAND Harajuku
KIDDY LAND Harajuku is a specialty shop of character merchandise famous for attracting secret visits by the world's celebrities. Following renovation and a grand opening in summer 2012, the product lineup is more dedicated to each character than ever before. From the basement to the fourth floor above ground level, each story is packed with an assortment of goods. The Snoopy Town Shop on the basement floor, and the Rilakkuma Store and Hello Kitty Store on the fourth floor, offer a broader range of products than anywhere else.
If you're looking for character merchandise, this is a good first stop.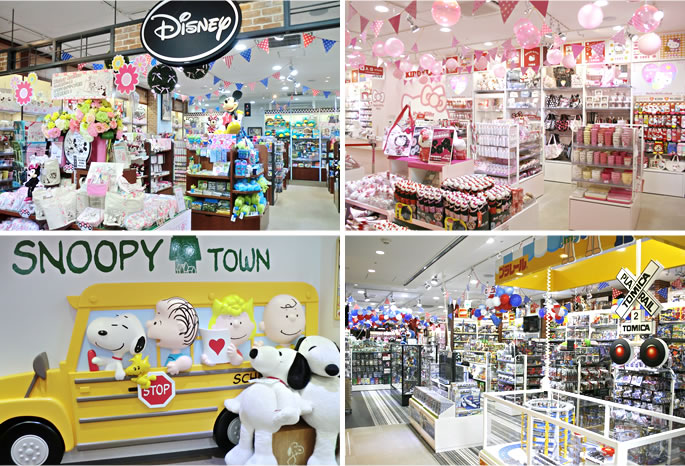 Specialty toy store that delights a playful heart
Hakuhinkan Toy Park
Hakuhinkan Toy Park, is the specialty toy store in Ginza 8-chome. One floor below ground level and four above carry some 200,000 toys, stuffed animals, games, dolls, variety goods, and other items, promising to delight a playful heart and entertain both children and adults all day long. At the Hakuhinkan Racing Park on the fourth floor, visitors can even try their hand at slot car racing (1:32 scale) on a circuit 36 meters long for 200 yen per five minutes.
The store offers original items, too. The Peach Cabin Attendant Licca doll celebrates the first anniversary of the opening of Terminal 2 dedicated to the low-cost carrier at Kansai International Airport, where Hakuhinkan has a branch.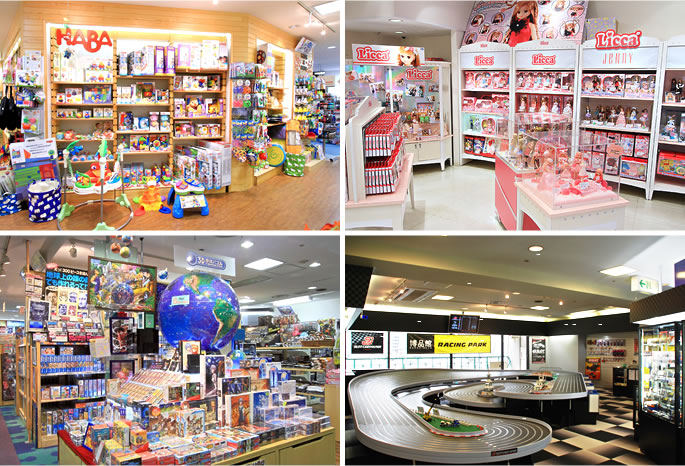 Street dedicated to character shops at Tokyo Station
Tokyo Character Street
Tokyo Character Street forms a section of First Avenue Tokyo Station, a commercial facility on the Yaesu side of the largest terminal station in Tokyo. Lining the street are some 20 tenants including a shop by the comic magazine Weekly Shonen Jump, running serial titles such as Naruto, and shops dedicated to characters from the Ultraman series, Doki Doki! Precure, and other popular television programs and manga works. The street attracts great numbers of visitors for its convenient access and for housing under the same roof a collection of character shops that are scarce on the east side of Tokyo Station.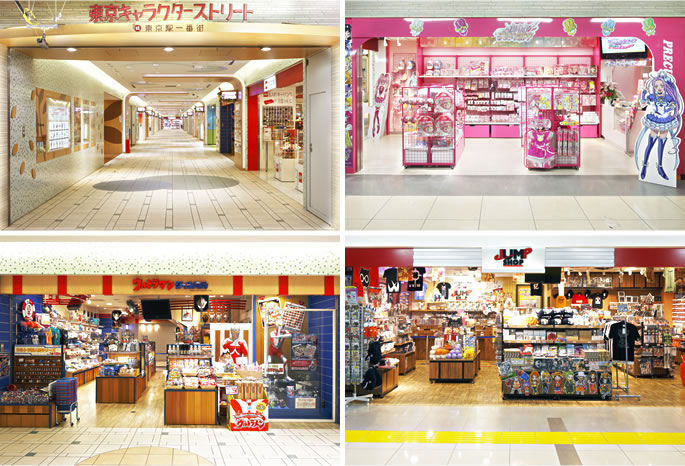 Product and service lineup unique to an official store
Pokémon Center MEGA TOKYO

©2016 Pokémon. ©1995-2016 Nintendo/Creatures Inc. /GAME FREAK inc.
Pokémon, Pokémon character names and Nintendo 3DS are trademarks of Nintendo.
The Tokyo Pokémon Center is one of the official stores of the globally popular video game and entertainment franchise. It features a wide array of merchandise, including Pokémon video games, the Pokémon Trading Card Game (TCG), toys, plush, and many more exciting Pokémon-themed items. Pokémon fans from around the world can take part in Pokémon TCG lessons or enjoy scheduled competitive events for players of all skill levels. The Pokémon Center even offers birthday party services. Young Pokémon fans and the young at heart will enjoy their visit to the Tokyo Pokémon Center.